Etnodim presents a new collection of ethnic clothing "Your wardrobe is your gallery".
Modern clothing in the first place should be comfortable and convenient. And yet - to serve for many years. With such criteria, its versatility becomes important. People often do not know with what and where to wear an embroidered shirt, doubting its versatility. But the answer is simple - your wardrobe, this is your gallery.
What are we talking about? Using the same tools and materials, the artist presents completely different works to people. So it works with clothes. Stylists often show how the same thing can be beaten in different ways. The embroidered shirt can become an expressive accent of any bow, as a recognizable style of the artist.
The modern world has long departed from the rule, clothing must be appropriate to a particular place. Is the artist's work influenced by the space in which he will be exhibited? Hardly. The artist knows how to use it for himself. He will take into account the lighting, plan the correct placement of works and adjust the space to his project, and not vice versa. When dressing, people take into account the weather conditions and the convenience of a thing. You can wear an embroidered shirt in an expensive restaurant or in a cafe at home. Go on a date to the movies or the theater. The only mandatory rule is your mood and comfort. These are the main landmarks responsible for the harmony between the inner state and appearance.

Today you want to create your "picture" with an embroidered shirt? If so, go ahead.

Dress - Kazka
Shirt - Podil
Dress - Karpaty
Dress - Gloria
ETNODIM designer Lilia Kasyanchuk comments on the collection:
"I studied the historical and natural diversity of the western regions, rethought traditional Ukrainian clothing and transformed it into modern, relevant to our weather and the rhythm of people's lives. Therefore, I made my products multifunctional and bilateral."
ETNODIM designer Anna Fesenko about the collection:
"Now they are lighter and more practical, on some models they added cufflinks or fasteners. On the double-sided jacket instead of a fastener - a belt. Earlier on outerwear and tied a fabric belt. On our model it is modernized. I was inspired by ornaments of the western regions of Ukraine. a traditional coat, but instead of sheep's skin we used a woolen coat. For convenience, large pockets decorated with ornaments were added. "
Coat - Verkhovyna
Coat - Malanka
Coat - Bukovyna
Dress - Rosa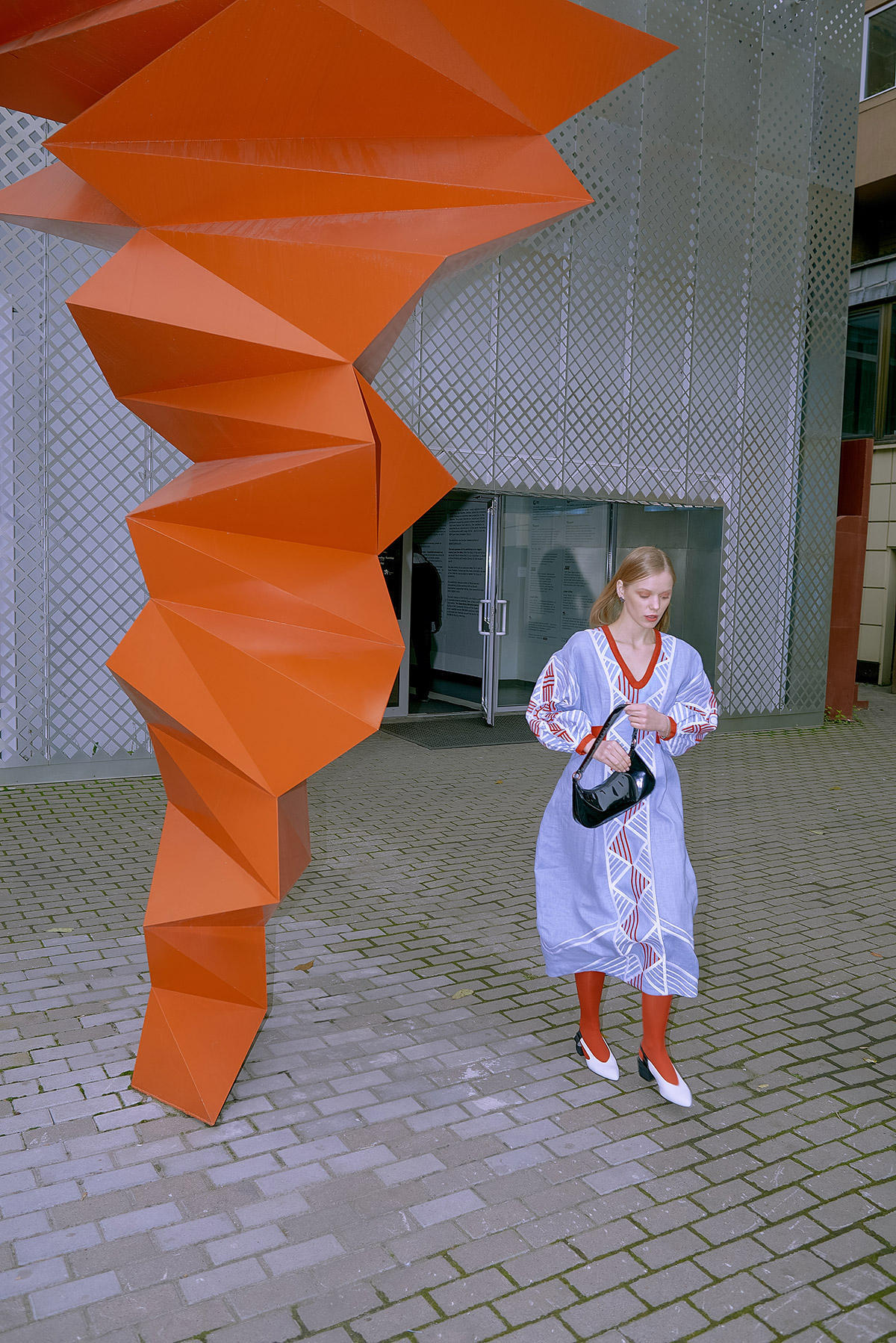 Dress - Pysanka
Shirt - Lileya
Shirt - Barvinok Grey
The main idea of the photo shoot "Your wardrobe is your gallery" is the story that thanks to clothes you can express yourself, your feelings and even carry your message to the world like an artist.

The author of the text is Manana Glonti
Photographer - Arthur Verkhovetsky

Makeup - Tretyak Irina
Style - @ thesoulsisters.blog