Project-
collection

"Art
collection
Etnodim"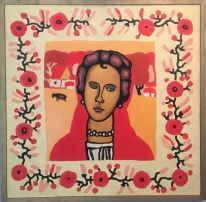 Dress Pryhodko
The designer was inspired by the worldview and works of artist Ivan Prykhodko.
She tried to convey a carefree and naive view of life but at the same time boundless and sincere love for Ukraine and its nature.
Short dress with wide sleeves 3/4 length, gathered at the bottom with elastic.
The front behind the back of the dress with reliefs.
The dress is fitted with a belt cord with tassels. Machine embroidery in the technique of smooth.
Ivan Prykhodko - a representative of naive art, a Ukrainian artist, is rightly considered an artist of the people by some experts and admirers of folk art.
Master of decorative painting, folk toys, and sculpture. Carves from wood and paints guardian angels, birds, and various creatures.
On the canvas, he paints fabulous animals of all rainbow colors.
Ivan Prykhodko's artistic talent is also manifested in the manufacture of traditional moving and sound toys, decorative sculptures of small forms, and figurative utensils.
Sobachko dress
The design of the dress is inspired by the works of artist Hanna Sobachko-Shostak.
The fabric is flax. Copper length, long sleeves with drawstring at the bottom. Machine embroidery in the technique of smooth.
The dress is made in bright colors, typical of the style of the artist, who represented folk futurism.
The main elements are fancy bright flowers.
Hanna Sobachko-Shostak is a Ukrainian master of decorative painting. It is a golden page in the history of Ukrainian art.
All her life the artist painted only flowers. She created thousands of them. And none of them happened again. Each was different in its color melody, in form. In some compositions, flower petals go unnoticed in birds, fish, and sometimes in the image of people. All these images are woven together. This dates back to the ancient Slavic folk traditions of teratological ornaments, in which the motifs of living beings and plants merged into one composition. "The works of Anna Sobachko are a golden page in the history of Ukrainian art," said Mykhailo Stelmakh, a well-known Ukrainian writer and admirer of folk art. The artist's paintings, marked by the high culture of form, characteristic of folk art, are of great historical and aesthetic value and can be the subject of serious and careful study.
In 1937 her works were exhibited in Paris, for two years in New York. And the artist Henri Matisse praised the work of the Ukrainian woman.
Zadorozhniy dress and vest
Dress in a vest, inspired by the unique style of Zadorozhny.
Short dress with sleeves lanterns, 3/4 length, gathered at the bottom of the cuffs.
Oval neckline, skirt going at the waist. It is decorated with embroidery on the sleeves and bottom of the dress. The vest is embroidered in the technique of a smooth surface.
Ivan-Valentin Zadorozhny - outstanding master of painting, monumental forms of image, creator of posters, art projects.
Zadorozhny worked in the styles of realism and neo-folklore. The works are deeply national, marked by the search for means of expression, the establishment of poetic ethno-ideals, original composition, perfect drawing, and harmony of colors. However, he was persecuted for innovations.
"If we describe Zadrorozhny as an artist, we must say that he was universal.
In the arsenal of means of expression, he found and took for himself that he succeeded at a high artistic level in everything he created.
He mastered many techniques, except painting, which he knew about and worked in.
This includes relief on concrete, stained glass, tapestry, and many others. Moreover, he was a strong character, a nonconformist by nature.
He always went against the system and was not afraid to express his thoughts aloud. Even his opponents respected him for that," says artist Oleksiy Hryhorov.
Korczynski's shirt
While creating this model, the designer was inspired by the works of artist Vasyl Korchynsky,
particularly concerning vytynanka.
Embroidery in the technique of application mimics the technique of making vytynanka. Preserved artistic means of vytynanka - conciseness and sophistication of forms.
Technical description of the model: three-dimensional shirt with wide sleeves, with an assembly on the neck, a collar with tassels.
It is decorated with embroidery applique and contrasting inserts.
Vasyl Korchynsky - Ukrainian artist, graphic artist, master of vytynanka.
"If a person is not absorbed in the material world, he can fill himself with a spiritual, creative world…"
And for 40 years of creativity, Vasily created several thousands of vytynankas. For example, he illustrated "Shadows of Forgotten Ancestors" by Mykhailo Kotsyubynsky (12 works) with them, some poems of the Renaissance, Ukrainian folk songs, and various domestic scenes; there is also an erotic vytynanka triptych: "He", "She" and "Birth" (although there is no place for naturalism in vytynanka).
He also paved his own path in painting.
In particular, for the project "Ukraine: from Trypillia to the present" he created a series of large paintings: "Maidan. Revolution of Dignity", "Abandoned Farm", "Scythian Steppe", "Grace", "Kozak Mamai", "Milky Way", "Kruty. Mother's apples"…
Saenko shirt
When creating this model, the designer was inspired by the works of Alexander Saenko.
Fabric - linen, free-cut shirt. At the bottom of the sleeves long sleeves cuffs with a clasp on one button.
Central clasp with buttons on the front in the center. Classic stand-up collar. Back on the yoke. Machine embroidery is smooth, embroidery on the contour.
The ornament is made in the style and colors typical for a graphic artist.
In his mosaics, the author depicted nature so that you can find its elements on the shirt; storks, reed leaves, and other plants.
Alexander Saenko - Ukrainian artist, decorator.
He was born in the Chernihiv region; he lost his hearing and speech forever in childhood after the disease.
Oleksandr Ferapontovych is an innovator in using straw for highly artistic household items and furniture.
He proved that straw is quite suitable for interior design and for creating generalized monumental images of folk heroes and favorite writers.
Saenko's most famous work is the large decorative painting "Kozak Mamai".
In 1999, the artist was recognized at the international level: by the decision of the General Conference of UNESCO, his name was included in the official list of outstanding figures of world culture.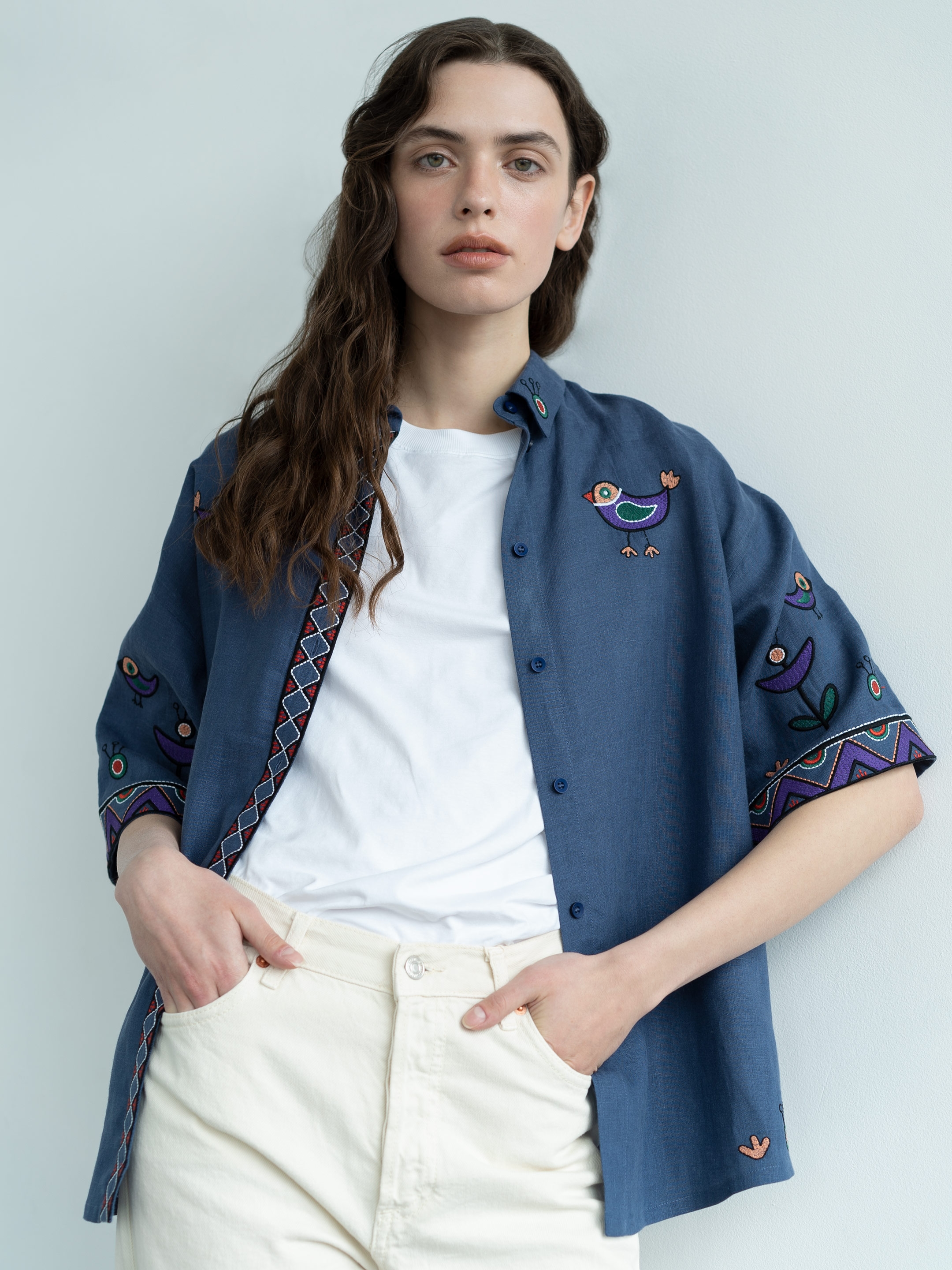 Gushul dress and shirt
Inspired by the bright and cheerful works of Gushul, in which there is a connection with nature and something supernatural.
Sundress and short-sleeved shirt decorated with embroidery.
Long sundress trapezoidal silhouette, fitted with a belt cord with tassels.
Shirt with short sleeves, classic collar, front strap fastened with buttons, decorated with machine embroidery in the smooth technique.
Julia Gushul - ukrainian artist and ceramist
Her art is identified as naive painting.
But Yulia Gushul's "naivety" is a deep philosophy. It is color signs and codes of deep history, and it is subconscious connections with something ancient, powerful, and natural.
Gushul's paintings are quite extraordinary: extraordinary both in plot and color.
Here are bizarre animals such as tulip fish, low fish sun, or cat-bedside tables and very simple, at first glance, everyday objects, such as a jar or cactus, but depicted in a rather unusual manner.
According to the artist, she does not have to think long about what images to create.
After all, they come out of it somehow on their own. "Here I draw a line," says the master, "and somehow by themselves appear hitherto unseen creatures."
Moreover, the artist's colors are attractive. The colors in her works are incredibly bright and cheerful.
Linen dress with applique and embroidery Ekster
Inspired by the works of Olexandra Exter.
Linen fabric. Length above the knee. Long wide sleeve.
The neck has a square shape.
The technique of execution - "Application".
The dress consists of different bright colors of fabrics and clear and sharp lines that emphasize the artist's unique style.
The most commonly used elements are straight geometric shapes and intersecting lines.
Olexandra Exter - Ukrainian artist, avant-garde, designer, graphic artist, film and theater artist.
A prominent representative of European cubism and futurism, the Ukrainian avant-garde, one of the founders of the Art Deco style.
She was a friend of Malevych, and he even let her into his studio and listened to her advice.
People told about her that she was a kind of combination of European and Ukrainian culture. In her house, you could see Ukrainian embroidery on the walls among the paintings of Picasso and Braque, on the floor - Ukrainian carpet, clay pots were served on the table, and bright majolica plates with dumplings.
Exter went further than the French did.
She became an abstractionist, which her Parisian friends Picasso, Braque, and Leger did not dare to do. In her Kyiv studio, she taught abstract art even to children, offering them to illustrate a fairy tale not with a plot but with the help of rhythms. She also renewed theatrical art.
For the first time in the world scenography, she dared to play the whole cube of the stage, not just its tablet floor.
One of her most famous paintings is Fundukleivska Street (now it is Bohdan Khmelnytsky Street).
Linen sundress with applique and embroidery Malevych
When creating this model, the designer was inspired by the works of Kazymyr Malevych.
Fabric - linen, maxi length. Strapless dress, tied with scent.
The technique of execution - "Application".
The sundress is reminiscent of the works of K. Malevych, in the style of Suprematism, in which he worked. Straight geometric shapes are well traced at the top of the product and the bottom of the sundress.
Kazymyr Malevych - Ukrainian avant-garde artist, a prominent figure of the Ukrainian avant-garde, founder of Suprematism, one of the founders of cubofuturism.
It's all about Malevich, an artist who started as a self-taught painter and became a world-famous artist, art theorist, philosopher, and poet.
Malevych, like many of his fellow futurists, believed that he had every right to create his own biography, which he did by "correcting" the facts. Therefore, the date of his birth or the dates of his paintings differ in different references. And his figure is overgrown with legends and mystifications.
Malevych is often compared to Leonardo da Vinci. At one time, da Vinci moved from one era in the art to another, just as Malevich, to some extent, opened the era of modern art. We can say that all modern art, in one way or another, looks at Malevich and rejects or denies confidence in his theses, works, or even his position.
Art collection Etnodim
Etnodim has always been creating embroidered shirts with the imprint of the present day. We dedicated our collections to the Shot Renaissance, Crimea, Flowers of Ukraine, Kyiv chestnuts, mosaics, and other subjects. Each of the brand's projects draws deep from our roots the ornament of the future, which becomes a new version of the Tree of Life, the fertility of the earth, and male or female strength. And at the same time, it is still popular.
Who did we turn to today? Who are they? The creators of the cultural picture of Ukraine. Those who inspire our designers. Those who continue to give impetus and life to everything Ukrainian.
One of them was envied by Henri Matisse.
All modern art rejects, denies, or appeals to one of them.
One of these artists was dumb. Yes, he lost his voice after an illness in his childhood, but look how much hiswork has said.
One of these artists founded the Art Deco style and influenced Europe with her original taste.
One of them was accused of "Ukrainian nationalism, formalism and Boychukism" in Moscow.
Just as museums and galleries preserve valuable paintings, now we have our own art collection that we want to share with you.
It icludes: Malevych, Exter, Zadorozhniy, Saenko, Prykhodko, Gushul, Sobachko-Shostak, Korchynskyi.
Come closer to see all the details.
etnodim 2022 / Слава Україні